24H is a special collaboration anime between Katekyo Hitman Reborn! and élDLIVE. It premiered at the Amano Akira Illustrations Exhibition on July 28, 2016 and was made publicly available online on August 4, 2016.
The video featured animated scenes based on the artwork from the 24H section of the character visual book Rebo to Dlive.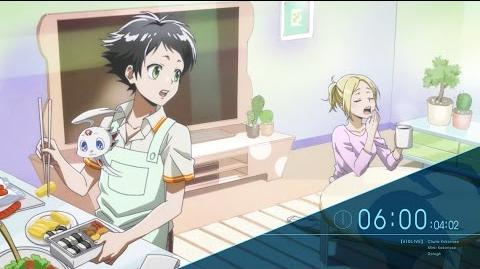 The video featured the first new animation for Reborn in 10 years, and previewed the anime footage for élDLIVE.
Scene at 10:00 and 15:00 originally features characters from Warashibe Tantei Numa Shichirou, Amano Akira's oneshot work. In the video, scene at 10:00 was replaced with a footage of Veronica, Ninotchka, and Dr. Love and characters from Warashibe Tantei Numa Shichirou was removed from the scene at 15:00.
Ad blocker interference detected!
Wikia is a free-to-use site that makes money from advertising. We have a modified experience for viewers using ad blockers

Wikia is not accessible if you've made further modifications. Remove the custom ad blocker rule(s) and the page will load as expected.