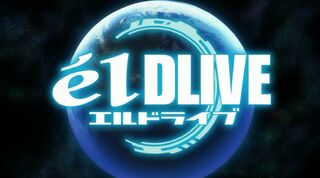 ēlDLIVE (エルドライブ,, Erudoraibu?) is an anime adaptation of the manga by Akira Amano. It is animated by Studio Pierrot and started airing on January 8, 2017 on the channels Tokyo MX, Fukuoka Broadcasting, Yomiuri TV, Sapporo TV, Chukyo TV, and BS11.[1][2]
The opening theme is Our sympathy by Alfakyun, and the ending theme is Kimi no koe ga... by The Super Ball.[3] The first episode had an advance screening on December 11, 2016. Crunchyroll has announced that they will be streaming the series with English subs.[4]Funimation will stream the anime with an English dub. [5]
Middle school student Chuta Kokonose has heard a voice in his head ever since he can remember. When a strange creature recruits him to the space police force, he learns that the source of the voice is a Monitalien, a symbiotic creature who is living inside his body! Now Chuta must prove his mettle to his cold-hearted coworker, Misuzu, and the rest of the department by protecting the universe from otherworldly criminals.[6]
Animation Studio: Studio Pierrot
Director: Takeshi Furuta
Assistant Director: Tomoya Tanaka
Series Composition: Toshimitsu Takeuchi
Character Design/Chief Animation Director: Seung Ah Han
Sub-character Designer: Keiichirou Matsui
Art Director: Seiki Tamura
Art Setting: Yuuho Taniuchi
Color Design: Yukiko Kakita
Editing: Kumiko Sakamoto
Director of Photography: Yuuichirou Nagada
CG Director: Youhei Miyahara
Monitor Graphics: Kaori Seki
Sound Director: Takeshi Takadera
Music: Yasuharu Takanashi
Sound Direction: Half H P Studio
00:53

TVアニメ『エルドライブ【ēlDLIVE】』PV先行公開

00:59

TVアニメ『エルドライブ【ēlDLIVE】』公式PV

02:32

TVアニメ『エルドライブ【ēlDLIVE】』公式PV第2弾
References
Edit
External Link
Edit
Ad blocker interference detected!
Wikia is a free-to-use site that makes money from advertising. We have a modified experience for viewers using ad blockers

Wikia is not accessible if you've made further modifications. Remove the custom ad blocker rule(s) and the page will load as expected.